La terza tappa (31/01) completata in due sere scarse:
Third stage, stitched in less than two evening: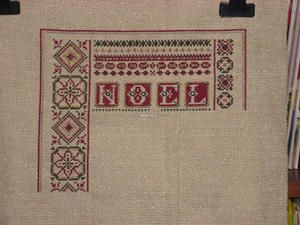 In effetti non è una gran tappa, come lavoro, 50x50. In realtà avrei dovuto ricamare anche parte dei capelli della dama, ma per non sbagliare a contare ho pensato fosse meglio farli nella 4a tappa (15/03) che prevede gli 80x50 punti a destra di quelli da già fatti, con tutta la testa della dama.
Da sola non so quando l'avrei cominciata, ma così col SAL ho avuto la scusa per cominciarla e mi sta piacendo tantissimo!
--------------------------------
This is not a big stage, 50x50 stitches. Iwould have stitched also part of the hairs of the lady, but at the end of don't made mistakes counting empty spaces between frame and hair I've decided to stitch them in the fouth stage, which is 80x50 stitches on the right of the stitches in the third stage, with the whole head of the lady.
I don't know if and when I begin stitching this lady if I had to do alone, but with this SAL I've had the reason to begin, and I'm loving her a lot.