FINITA! - FINISHED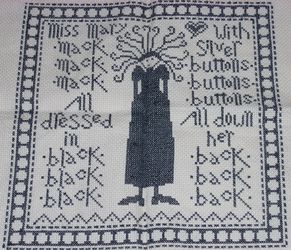 Mancano alcuni punti (circa 160), ma mia mamma l'ha vista, ha guardato lo schema e ha decretato che le piace così, senza quei punti.
Stasera la laviamo e stiriamo e domani la porto dal corniciaio e anche lei finirà nella parete dei ricami in taverna in montagna.

-----------------------------------

Still missing some stitches (about 160), but my mom saw her, take a lokk at the pattern and decided that she prefers at this poit: without those stitches.
This evening we'll wash and iron her, and tomorrow morning I'll bring her to the framer, and in the end she will be on the needleworks wall in tavern in our country house